It seems that you are running the Steam version of PowerBeatsVR, but the game could not start because of a problem with it.


Please note:
SteamVR is required and must be running in general for all VR games on Steam. Please check the following points to help you solve your problem.
First of all, please open Steam and ensure that SteamVR is installed. 
If that's not the case it can be installed directly from the Steam Store.  Just search for "SteamVR" and install it. It's free.
If you have problems installing SteamVR take a look at this video explaining the whole installation process as well as starting up SteamVR.

If SteamVR is already installed you should see a "VR" icon in the upper right corner of your Steam window.  
Please make sure it is running and ready (icon shows in green).
While it is running you should also see a SteamVR icon in the task bar and a window displaying the status of your headset and controllers.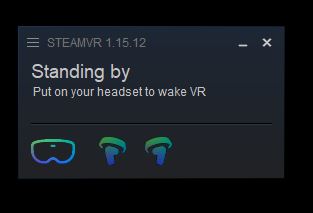 The process is the same for all the different headsets, though the icons for headset, controllers, or lighthouses that are displayed will vary accordingly.
Take a look at this video explaining how to launch SteamVR, here using HTC and Oculus gear.  
If the VR icon is there in Steam, but showing in grey it is either not running, then you can simply start SteamVR by clicking on the Icon, or it is running but not ready due to some problems with the setup of the headset.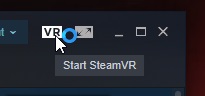 If the SteamVR status window shows problems you will have to set up your headset and controllers properly in the respective application of your headset manufacturer.  
Sometimes it may help closing both, SteamVR and the specific app related to your headset, and starting them again, first the headset, then SteamVR…
If not, you will have to follow the instructions, and if needed support, provided for your specific headset. 
SteamVR will also give you information and hints on what is wrong and how to solve it in the status window.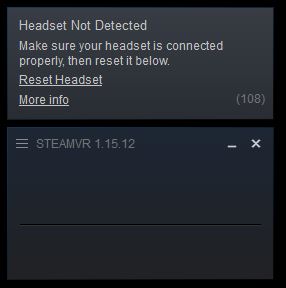 Once the problems have been solved, and your headset and SteamVR are working fine just start PowerbeatsVR and enjoy your workout.
If SteamVR seems to be running fine, but you are still being redirected to this webpage, please contact us on Discord (https://discord.gg/powerbeatsvr) or via email (support@fivemindcreations.com).